The Gilded Age (jan 1, 1865 – jan 1, 1913)
Description:
Amendment 13:
Amendment 14:
Amendment 15:
Moral purity: People use laws and government to make society batter. They do this be prohibiting voting, cigarettes/tobbaco, Alcohol, birth control, Horse racing, gambling.
Corruption and lack of regulation: texan legislature wages dropped from $5 to $2. Pushed for wage regulation. congressmen and politicians find ways to put more money in their pocket, including stealing from government
Moral purity movement lead to selling out lawed products on the black market.
Politics in The gilded age:
highly politicized movements like temperature movement, women's movement.
land grants encourage building the rail road.
tariff —> putting a higher price on imported goods. lead to larger and more efficient factions in the U.S.
markets are bigger because there are more goals being produced and sold. this leads to more taxes being collected and used to improve the economy.
Added to timeline: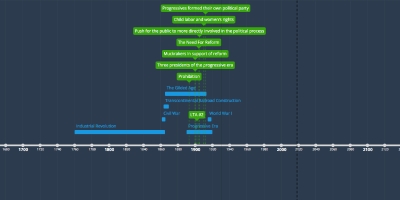 Economic Reform in the United States
David Toothaker
Date: