Thatcherism (feb 11, 1975 – nov 28, 1990)
Description:
Thatcher used monetarism (1979-1984) which included privatization of state-owned assets,
deregulation (increased competition in product markets and deregulation in the financial industry), reducing the power of trade unions, reducing income tax. Reduced inflation but unemployment rose to three million. Realization that monetarism is a concept that harms the economy.
Added to timeline: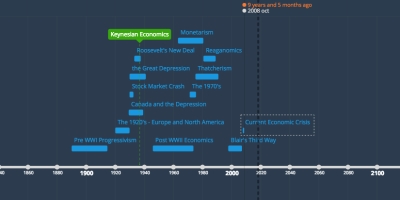 Ebb and Flow of Liberal Economics
Ebb and Flow of Liberal Economics
Date:
Images: