Reign of Terror (sep 5, 1793 – sep 28, 1794)
Description:
Reign of Terror begins September 5, 1793. The Reign of terror was when most of the executions took place. Thousands of people were sentenced to death. Conflict arises between two political parties, and Maximum Robespierre becomes the new leader of the Revolution.
Added to timeline: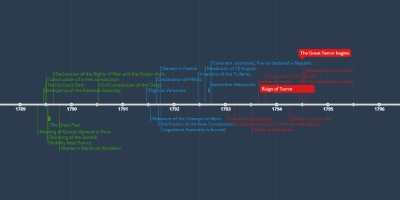 French Revolution Timeline
30 major events of the French Revolution, divided by stages:...
Date: