jan 1, 1916 - German Empire (1916) Armored car – 3 built
Description:
The original company was founded by Heinrich Büssing (1843–1929), in Braunschweig in 1903. Its first model was a truck. The company was made famous for its reliable worm drive models, largely exported and built under licence abroad, and later heavy duty trucks with another innovation, a rigid three-axle chassis. It earned, in 1910, a contract based upon an army specification for artillery tractors and supply trailers. By 1914 Büssing was the leading manufacturer of trucks and was well placed in the eyes of the army for all kind of heavy vehicles. In 1914, it was among the three companies selected by the army for the new standard armored car model.
After the war, Büssing diversified its activities towards automobile industry, acquiring the Automobil Fabrik Kornnick AG at Elbing, and later Neue Automobil Gesellschaft (NAG), in 1934, thus becoming the Büssing-NAG company. It was made famous in 1923 introducing the first full-size bus, diesel trucks in 1931-32 and the first underfloor-engined trucks in 1936. During WWII, Büssing once again produced 6 to 8WD armored cars for the Wehrmacht. It also produced trolley buses before and after the war. The company was finally integrated into MAN AG in 1971.
Added to timeline: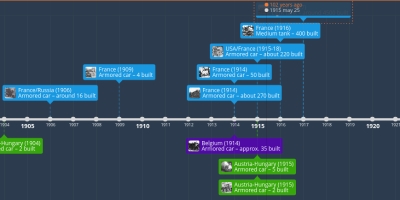 ww1 and 2 tanks
http://www.tanks-encyclopedia.com/
link to info
Date:
Images:
Geo: