apr 4, 1949 - NATO Formed
Description:
The North Atlantic Treaty, signed by twelve nations on a Monday afternoon in Washington DC, saw the United States accept the lead in the world's postwar resistance against Communist aggression.
The Treaty bound those who signed to treat an armed attack against any one of them as aggression against all of them and to react with any action necessary, including armed force.
It was written and signed by twelve countries including:
-United States
-Great Britain
-Canada
-France
-Netherlands
-Belgium
-Luxembourg
-Italy
-Portugal
-Norway
-Denmark
-Iceland
They signed in front of the twelve national flags in the auditorium of the State Department building on Constitution Avenue. Each representative using a different pen.
In his speech President Truman described the new treaty as 'a shield against aggression and the fear of aggression - a bulwark which will permit us to get on with the real business of government and society, the business of achieving a fuller and happier life for all our citizens'
Added to timeline: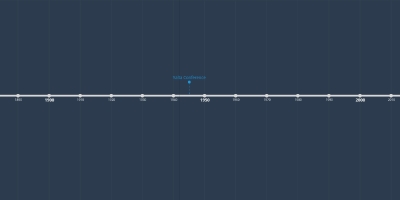 Cold War Events
Date:
Images:
Geo: