jan 1, 1500 BC - Akrotiri, Thera (Santorini) (1500BCE)
Description:
Akrotiri (Greek: Ακρωτήρι, pronounced Greek: [akroˈtiri]) is a Minoan Bronze Age settlement on the volcanic Greek island of Santorini (Thera).
The settlement was destroyed in the Theran eruption about 1627 BC and buried in volcanic ash, which preserved the remains of fine
frescoes and many objects and artworks. The settlement has been suggested as a possible inspiration for Plato's story of Atlantis. The site
has been excavated since 1967.
Added to timeline: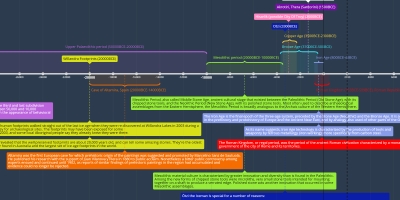 hummanities
13/2/18
Date: