jan 1, 20000 BC - Willandra Footprints (20000BCE)
Description:
Remarkable human footprints walked straight out of the last ice age when they were re-discovered at Willandra Lakes in 2003 during a
routine survey for archaeological sites. The footprints may have been exposed for some
time before 2003, and some local Aboriginal people say they already knew they were there.
Research has revealed that the well preserved footprints are about 20,000 years old, and can tell some amazing stories. They're the oldest
footprints ever found in Australia and the largest set of ice age footprints in the world.
Added to timeline: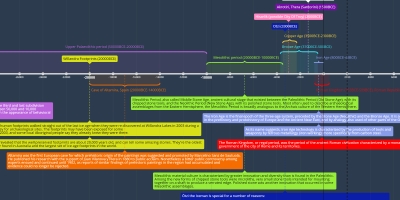 hummanities
13/2/18
Date: