dec 20, 2017 - FRIENDS AND FAMILY FED UP WITH BANK NOT ASSISTING IN ERRANDS
Description:
NOW PEOPLE ARE UPSET AFTER ALL SPENDING ABOUT 30 MINUTES JUST DROPPING OFF A DEPOSIT AND FED UP WITH THE BANKS CRIMINAL TYPE TREATMENT. CANNOT FIND A RESOURCE TO ASSIST WITH ALMOST ANY ERRAND NOW DUE TO THE CONSTANT FRUSTRATION GIVEN BY WELLSFARGO. ALSO NOW HEARING MORE ABOUT OTHER INSTANCES OF THE SAME NATURE IN GROUP DISCUSSIONS AS WELL AS HEARING OTHERS STATING THEY DO NOT EXPERIENCE THAT AT ALL. THIS LEADING TO QUESTION OF DISCRIMINATION AND POSSIBLE FRAUD.
Added to timeline: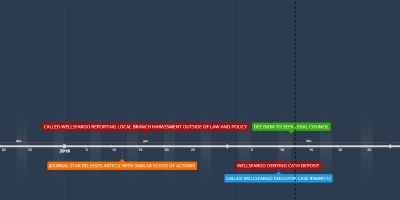 WELLSFARGO POSSIBLE PRIVACY INFRINGEMENT, DISCRIMINATION, AND BIAS FRAUDULENCE
WELLSFARGO OVERSTEPPED PRIVACY BOUNDS BY INQUIRING PERSONAL ...
Date: