11h 48min, mar 18, 1863 y - End of the Dakota War
Description:
The Dakota have lost the war, and a law is passed saying it is illegal for Dakota to live in Minnesota. The law has never been repealed. The Dakota were taken to new reservations that were dry, hard, and unsuitable for farming. All in all, a very happy ending!
Added to timeline: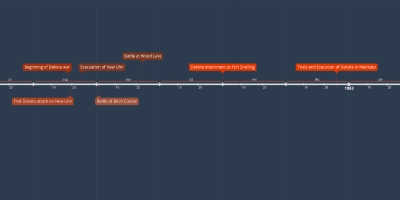 Dakota War- MN studies, Ella Mevissen
Events of the Dakota war!
Date:
Images: