19h 44min, aug 23, 1792 y - Longwy Falls to Prussians
Description:
Longwy was a strategic location on the French-Austrian border and the rapid capture of it bode ill for the French hopes of fighting back. Additionally, the fall of Longwy drove revolutionary zeal through the roof as counter-counterrevolutionary sentiments rose. This, in turn, helped trigger the September Massacres, a series of systemic murders of alleged counterrevolutionaries in the prisons of Paris.
Added to timeline: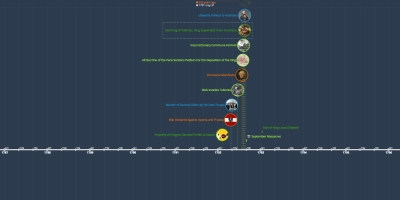 French Revolution - 1792
(Robespierre, Danton, and Lafayette are listed earlier on th...
Date:
Images: