jan 8, 1849 - Rebbelions act back.
Description:
On the evening of April 25, 1849, a group of radical Tories took to the
streets and threw rocks and rotten eggs at the carriage of Lord Elgin, the
new governor general. Then, they set fire to the parliament buildings in
Montréal, which had become the capital in 1844.Earlier, in February 1849, the Baldwin-LaFontaine government had
introduced the Rebellion Losses Bill to compensate people in Canada East
who had lost property during the rebellions. As estimates of the costs
increased, so did the English-speaking public's opposition to paying them. In
time, public protests by the Tories turned into riots. It was up to Lord Elgin
to decide whether to sign the bill as law. If he did sign it, he would anger the
Tories even further. If he did not sign it, he would damage the foundation of
responsible government. On April 25, 1849, Lord Elgin signed the bill.
Added to timeline: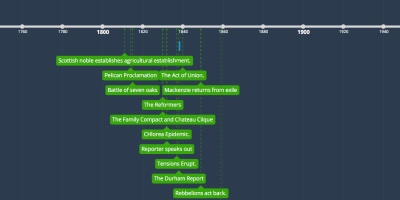 chapters 7/8
Date: