jan 1, 1945 - Adagio in G minor by Albinoni
Description:
In its full name "Adagio in Sol minore per archi e organo su due spunti tematici e su un basso numerato di Tomaso Albinoni (Mi 26)"
This neo-baroque composition was written in 1945 by 20th-century musicologist and Albinoni biographer Remo Giazotto and released in 1958. It is allegedly based on a fragment of a church sonata composed by Albinoni 3 centuries prior.
Remo claimed to have found this fragment in the ruins of the bombarded Library of Dresde in spring 1945, but never shared it publically.
Added to timeline: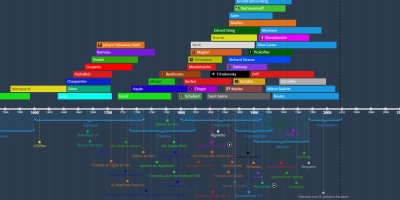 "Classical" Music
A representation of the different eras of "classical" music ...
Date: