sep 5, 1944 - Liberation of the Netherlands
Description:
During the last months of the Second World War, the Canadian military was tasked with freeing the Netherlands from Nazi control. For eight months, the Canadians fought the Nazis until they agreed to let food and supplies to be brought to the Dutch people in fear that their leaders would be executed. Only days after this agreement, Hitler was found dead in his bunker and the Nazis surrendered to the Canadian forces. Today, because of this, Canada and the Netherlands are on good terms with each other.
Added to timeline: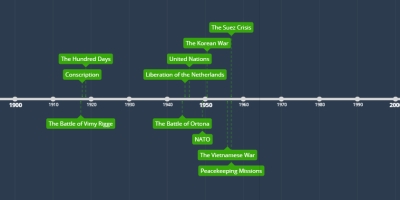 Canada's Military HIstory
This timeline depicts the most significant events, people, a...
Date: