dec 20, 1943 - The Battle of Ortona
Description:
The Battle of Ortona was fought by Canadian forces as part of the Italian Campaign. It was one of the hardest battles they fought during the war, the German forces were more prepared, experienced, and were made up of well respected units. Persistence and acts of bravery were what earned the Canadians victory against the prowess of the Germans. In the aftermath of the battle, Canadian morale was boosted both overseas and at home giving them new strength after previously suffering some hard losses.
Added to timeline: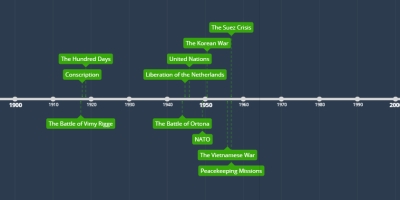 Canada's Military HIstory
This timeline depicts the most significant events, people, a...
Date: