jan 1, 1940 - Earliest Mennonite church camps
Description:
Some of the first Mennonite camps were established in Michigan and Pennsylvania.
They include:
Camp Friedenswald- www.Friedenswald.org
Little Eden Camp- www.LittleEden.org
Camp Men-O-Lan- www.MenOLan.org
Laurel Mennonite Church Center- www.Laurelville.org
The people who established each of these camps were interested in creating places for people to revitalize their relationships with each other, with with themselves, and with God.
Added to timeline: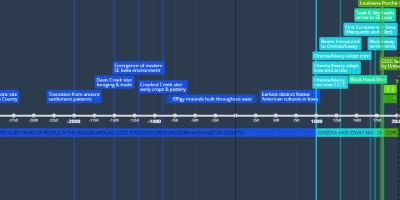 Crooked Creek: A History of the Land and the People
Crooked Creek Christian Camp
Washington, Iowa
2017

Created ...
Date: