jan 1, 1221 - Genghis Khan Conquers Central Asia
Description:
One particular confederation in Central Asia, known as the Khamag Mongols was lead by a man named Temujin. Around the year 1200 Temujin decided to increase his power and unite the various tribes into just one. He thus began a civil war with each confederation but rather than completely conquering the people and driving away their soldiers, Temujin would bring the tribe under his protection and integrate them with his own people. Along with this he would also appoint his men into positions of authority based on skill rather than heritage. This political strategy meant that the conquered people felt a sense of loyalty and allegiance to their new ruler.
After uniting all of the tribes into one Mongol Empire in 1206, the people elected Temujin as Genghis Khan, meaning "universal ruler."
Added to timeline: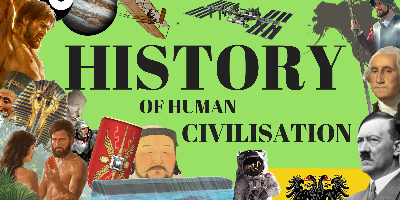 History of Human Civilization
This is a rough history of human migration, advancement, and...
Date:
Images:
Geo: