4h 15min, jan 14, 2018 y - A Chinese salvage team on Saturday recovered two bodies from the tanker.
Description:
An Iranian oil tanker has sunk after burning for more than a week following a collision on Jan. 6 in the East China Sea, Chinese state media said on Sunday, adding that a large amount of oil was burning in the surrounding waters.
"Currently it has already sunk," CCTV said, citing the Shanghai maritime search and rescue center. It showed video of a tower of billowing black smoke that it said reached as high as 1,000 meters, and flames on the surface of the water. The ship sank before 5 p.m. (0900 GMT), the broadcaster said.
https://www.reuters.com/article/us-china-shipping-accident-japan/burning-iranian-oil-tanker-sinks-after-january-6-accident-chinese-state-tv-idUSKBN1F309G
Added to timeline: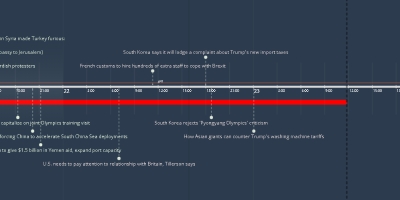 World Politics Time Line 2018
For more information, go to: http://visualtrackers.com/world...
Date: