feb 27, 1978 - First digital reverb unit (224) released by Lexicon
Description:
Unveiled at the AES show in 1978, the Lexicon 224 was not the first digital reverb (that honor goes to EMT's 250), but the 224 (and its 224X and 224XL cousins) was the most ubiquitous and popular high-end studio reverb in history.
The reverb was conceived when Dr. David Griesinger, a nuclear physicist/musician/classical recording engineer, started working on a digital solution to reverb. Seeing EMT's 250 encouraged him to merge a microcomputer with his reverb design. He pitched his rough prototype to Lexicon, which bought the invention and brought Griesinger on board to help refine the product. One of Griesinger's concepts for the new reverb was creating a separate control unit for parameter adjustment and program access, and the Lexicon 224 was unveiled at the AES show in 1978.
Digital reverb meant that acoustic space became less of a factor with live perfomances as 'space' could be applied to individual instrumnets or overall mixes in any environment.
Added to timeline: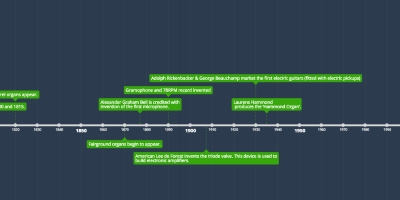 Music Technology Timeline
A timeline of key events in the history of music technology....
Date:
Images:
YouTube: