jan 1, 1836 - First permanent American settlers
Description:
First American settlers to live permanently next to and around Crooked Creek in Washington County- 1836:
The pioneers that settled closest to the land that would later be Camp were Richard Moore, Thomas Baker, and Milo Holcomb, all arriving in 1836. Moore and Baker both settled about 3 miles from here, right next to the Meskwaki community. Milo Holcomb settled about 5.5 south of here, immediately north of Josiah Smart. He opened a trading post right by Smart's, and had many visitors from the Sauk and Meskwaki communities. He also sold basic goods to settlers, worked as the county sheriff, and set up a mill on Crooked Creek to produce lumber, cornmeal, and flour. Like with Josiah Smart, the Sauk and Meskwaki communities came to be particularly familiar with Holcomb, surprising him at his home to celebrate when he and Rachel Jackson were married in 1839.
Besides Adam Ritchy, there were two other settler families that came to this area before these Holcomb and the others: the Moorheads and the Augustines. Matthew Moorhead bought Adam Ritchey's cabin from him and set up a church and travelers' inn there. Michael Augustine and his son moved into what ended up as the western part of the county, which was actually beyond the boundary line of the Black Hawk Purchase at the time. They were therefore technically in Sauk and Meskwaki territory, where "Indians were their only neighbors" (Kathy Fisher in her history of Washington County).
Added to timeline: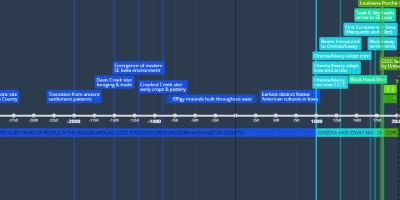 Crooked Creek: A History of the Land and the People
Crooked Creek Christian Camp
Washington, Iowa
2017

Created ...
Date: