jan 1, 1860 - Timber cleared on CCCC
Description:
Clearings on CCCC probably made during first fifty years of Washington County:
Today there are various grassy clearings across Camp that do not appear to be natural, yet were already here when CCCC was established, and according to Roger Roth, have been here since before the Roth family came to live on the property. His suggestion was that they were cleared of forests by pioneers for better pasture, and indeed, records of soil types across the property indicate that all of those areas had a native vegetative cover of forest (the lodge, the pavilion, the barn and recreation center, the pool house, sleepy hollow, and the bottom of the waterslide). The early owners of this property may have cleared them to achieve grass pasture, or perhaps just for lumber. After all, John Graham owned a saw mill nearby that was used for cutting logs.
Added to timeline: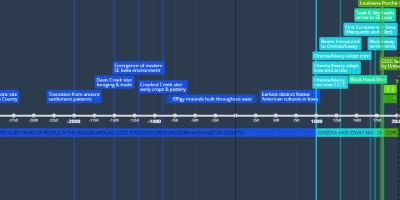 Crooked Creek: A History of the Land and the People
Crooked Creek Christian Camp
Washington, Iowa
2017

Created ...
Date: