jan 1, 1855 - First Mennonites in CCCC area
Description:
First Mennonites arrive to Washington County in 1850's:
The generation of Graham, Williams, and the others was also the time when the Mennonite community began to take shape in the area, which would of course go on to establish Crooked Creek Christian Camp over a century later. Mennonites began arriving to Washington County in the 1850's. Many of them were fresh immigrants from Switzerland and Alsace-Lorraine, while others had already been living in the eastern United States for over a hundred years. Church, therefore, was conducted in both German and English for many years, up until WWI. This township was the "nucleus of the Mennonites" according to Howard Burrell; Washington County's first Mennonite congregation was organized a few miles from here in 1856.
100 years later, Vernon Roth was the pastor of a congregation 3 miles south of here whose members, along with other local congregations, would go on to establish Crooked Creek Christian Camp in 1980.
Added to timeline: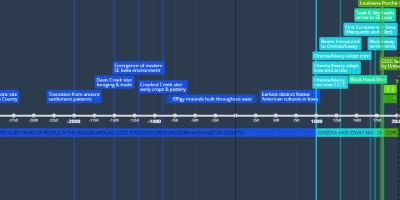 Crooked Creek: A History of the Land and the People
Crooked Creek Christian Camp
Washington, Iowa
2017

Created ...
Date: