jan 1, 1845 - Wolves and rattle- snakes eliminated
Description:
Yellow rattlesnakes and wolves killed throughout this area in the 1940's:
Wolves were so numerous here that in the 1940's Washington County paid residents to kill them, and within a few years they were shot, trapped, and poisoned into extinction. Rattlesnakes were also deliberately hunted into extinction. Some of the animals that other animals that roamed throughout these forests and prairies at that time which are seen very rarely today, or not at all, include wild turkeys, wild cats and lynxes, and elk. There were large herds of dear as well, which the settlers hunted by the hundreds. The History of Washington County, which was published in 1880, noted that even by that time the population of ducks, geese, muskrats, and raccoons—which were hunted for food and trapped for fur—had been dramatically reduced.
Added to timeline: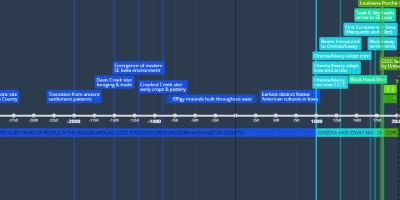 Crooked Creek: A History of the Land and the People
Crooked Creek Christian Camp
Washington, Iowa
2017

Created ...
Date: