jan 1, 1840 - First public land sales
Description:
1840 first year of public land sales in Washington County (CCCC bought by John Graham and Henry Williams):
Iowa officially became a territory of the United States in 1838, Washington County was formally established in 1839, and the federal government opened up the area to the first general land sales in 1840. The government charged $1.25 per acre, and everything in the county was sold by 1860. The land that is now Crooked Creek Christian Camp was bought at the second sale of 1940 by two men named John Graham and Henry Williams.
Added to timeline: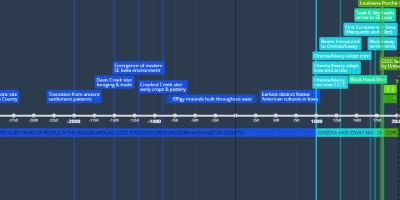 Crooked Creek: A History of the Land and the People
Crooked Creek Christian Camp
Washington, Iowa
2017

Created ...
Date: