jan 1, 1838 - Sauk & Meskwaki communities leaving Washington County
Description:
Most Sauk and Meskwaki out of Washington County by 1838:
The 1837 Second Purchase gave the Sauk and Meskwaki one year to remove themselves from the area that included western portion of Washington County. The Meskwaki community just 1½ miles north of CCCC and the Sauk community 4½ miles west of it was in this area (the Meskwaki settlement may have technically been "illegally" within the bounds of the Black Hawk Purchase), and the local 19th century historian Nathan Littler reported that most of the residents of those communities did indeed leave in 1838.
Added to timeline: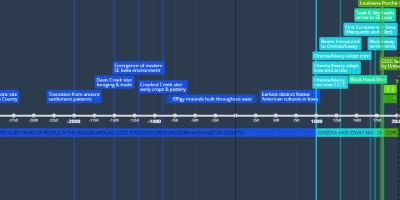 Crooked Creek: A History of the Land and the People
Crooked Creek Christian Camp
Washington, Iowa
2017

Created ...
Date: