jan 1, 1836 - Major "Sac and Fox" cessions
Description:
Major "Sac and Fox" land cessions (including land west of CCCC) made in 1836 and 1837:
Having witnessed the Black Hawk War, Keokuk and other chiefs agreed to each of the subsequent treaties ceding Sauk and Meskwaki land in Iowa. A tract along the Iowa River which included the northeast corner of this county was obtained from the Sauk and Meskwaki in 1836, with one year given for all Native Americans to be out of the area. The following year, the 1837 Second Purchase was made, which is the cession that ultimately displaced the Sauk and Meskwaki communities residing to the north and west of this property when Adam Ritchey and the other American settlers first arrived.
Added to timeline: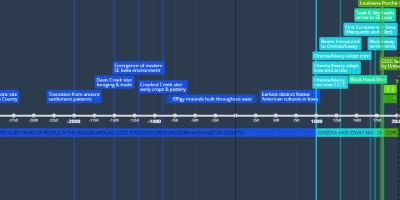 Crooked Creek: A History of the Land and the People
Crooked Creek Christian Camp
Washington, Iowa
2017

Created ...
Date: