jan 1, 1835 - Josiah Smart
Description:
Josiah Smart sets up trading post at mouth of Crooked Creek 6 mi s of CCCC in 1835:
Josiah Smart settled 6 miles south of this property, just across the county line. His house was next to the home of Chief Wapello and some other Sauk families, and he ran a trading post selling tobacco, whiskey, pipes, groceries, blankets, and beads, as well as a number of Native American goods. When Wapello's son was killed, the Sauk chief came to Josiah Smart's place to "drown his sorrows" with whiskey. But local people weren't necessarily his only customers. Because Smart was on the very edge of US territory when he opened up his trading post, it may have briefly been one of the furthest west of any in the northern part of the country, meaning there were probably native people coming to trade with him from much more distant places in addition to the local Sauk and Meskwaki communities.
Smart also spoke the language of the Sauk and Meskwaki fluently, and worked as an interpreter for official government business such as distributing annuities. A woman from one of their communities married Josiah Smart, and when the Sauk left to live on a reservation in Kansas, they moved there with them.
Added to timeline: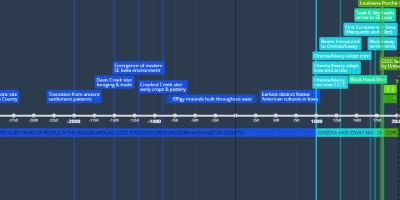 Crooked Creek: A History of the Land and the People
Crooked Creek Christian Camp
Washington, Iowa
2017

Created ...
Date: