jan 1, 1835 - First American settlers to explore Crooked Creek (Adam Ritchy & John Black)
Description:
Adam Ritchey and John Black explore along Crooked Creek in 1835 (first American settlers to be in Washington County area):
John Black and Adam Ritchey became the first White settlers ever in this area, arriving to what is now Washington County in 1835. They returned briefly to their families in Illinois, and then Adam Ritchey came back in 1836 to set up a homestead along Crooked Creek, about 9 miles east of here. Ritchey went on to buy a plot adjacent to the CCCC property at the first land sales, so it is likely he had at least seen this land as well at some point, perhaps exploring along the path of the creek.
Adam Ritchey's family was visited regularly by Chief Wapello and other local Sauk and Meskwaki people, and in fact had them to thank for saving his life. The mosquitos that buzz around Crooked Creek these days leaving people with itchy bumps are not nearly as vicious as they once were—in 1846, just before bringing his family over from Illinois, Ritchey contracted malaria while he was by himself building his cabin along the creek. People from one of the Sauk or Meskwaki communities found him dying in his home and nursed him back to health.
Added to timeline: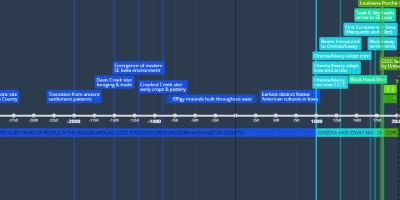 Crooked Creek: A History of the Land and the People
Crooked Creek Christian Camp
Washington, Iowa
2017

Created ...
Date: