jan 1, 1832 - Black Hawk War
Description:
The Black Hawk War of 1832:
There were many chiefs among the Sauk and Meskwaki who resented the treaty of 1804 and the situation they had come to be in, some vowing never to leave, and others deciding reluctantly to avoid danger by departing as told. Powesheik, who would later become chief of the Meskwaki village by Crooked Creek, helped to convince his people that the latter was the best course of action. Almost no Meskwaki resisted removal. The Sauk communities were less willing to abandon their homes, but a minor Sauk Chief named Keokuk became an influential advocate for retreat: "'I am your chief, and it is my duty to lead you to battle, if after fully considering the matter you decide to go-- but before you decide on taking this important step, it is wise to inquire into the chances of success.'" Keokuk, along with Wapello and some other chiefs, lead a significant exodus of Sauk people across the Mississippi to join the communities already living in Iowa.
Some communities refused to leave their homes despite the governor's orders. One of these was a community 55 miles east of here called Saukenuk, which was the main Sauk village and the home of Chief Black Hawk. They were told to leave in the spring of 1931, but Black Hawk understood that if they crossed the Mississippi into Iowa to join the Sauk and Meskwaki communities already there, it would only be a matter of time before they were ordered to move on once again. Shortly after being told to leave, Black Hawk and his people were driven from their village by the Illinois militia. They came back in the summer of 1832 with the intention of staying no matter the consequences. The "Black Hawk War" broke out between Black Hawk's 1,000 men and 1,200 soldiers from the United States army and Illinois militia, and the Sauk were defeated badly. Black Hawk attempted to retreat across the Mississippi River after already having been chased north from Saukenuk. He succeeding in getting most non-fighters to safety, but Black Hawk himself was captured by the United States. 500 of his people had been killed in the war.
Added to timeline: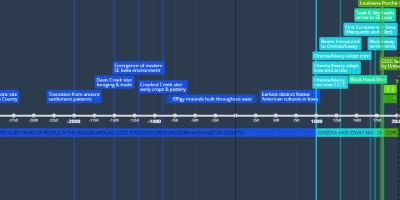 Crooked Creek: A History of the Land and the People
Crooked Creek Christian Camp
Washington, Iowa
2017

Created ...
Date: