jan 1, 1804 - Indian removal process begun by United States
Description:
US treaty with some Sauk and Meskwaki chiefs requiring removal to west of Mississippi:
In 1804 the United States and chiefs from several native groups signed a treaty in modern day St Louis which required that all native people east of the Mississippi evacuate to the other side of the river as soon as American settlers were ready to move onto the land they were occupying. This treaty was very controversial among the Sauk and Meskwaki people at the time, as well as many historians today. An article from the Iowa History Journal quotes the University of Iowa historian William Burke referring to it as "the fraud of the 1804 treaty with the Sac and Fox."
Added to timeline: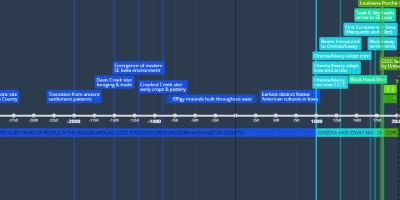 Crooked Creek: A History of the Land and the People
Crooked Creek Christian Camp
Washington, Iowa
2017

Created ...
Date: