jan 1, 1300 - Beans introduced to Oneota/Ioway
Description:
Oneota/Ioway begin to farm beans in late 1200's or early 1300's:
Beans were introduced to Iowa in the 13th century, spreading quickly to communities all throughout the region. From that point onwards, beans, corn, and squash were the three staple crops for the Oneota and Ioway communities of eastern Iowa. Their fields were planted along the bluffs of rivers or the terraces above creeks, connected to their village by footpaths. They set fire to the land in late winter or early spring to remove unwanted brush, and then probably started planting their fields in April. According to Ioway oral history, farming was introduced to them by the Black Bear People, who would go on to become one of the Ioway clans.
Added to timeline: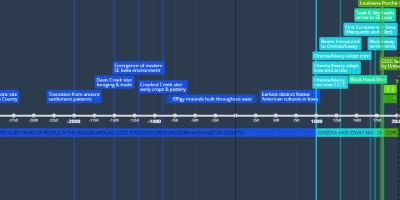 Crooked Creek: A History of the Land and the People
Crooked Creek Christian Camp
Washington, Iowa
2017

Created ...
Date: