jan 2, 1000 - Oneota/Ioway adopt corn
Description:
Corn is introduced to Oneota (Ioway ancestors) and other Native American groups in eastern Iowa around 1000 c.e.:
One of the objects found at the Sweeting site (5-10 mi sw of CCCC) was corn remains. The Oneota people who lived in that hamlet a millennium earlier would have been among the first generations to farm corn in Iowa, as the introduction of the Mesoamerican crop is dated to that same time period by Archaeologists. Other important crops would have been goosefoot, sunflowers, and squash, which had already been around for hundreds of years by their time. The same is true of tobacco, which Oneota and Ioway people blended with sumac leaves to smoke in their pipes.
Added to timeline: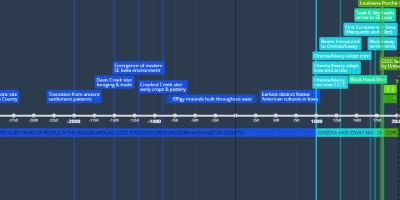 Crooked Creek: A History of the Land and the People
Crooked Creek Christian Camp
Washington, Iowa
2017

Created ...
Date: