jan 1, 1500 BC - Davis Creek site: foraging & trade
Description:
Evidence of eastern Iowa trade and foraging at the Davis Creek site, 5 mi north of CCCC dates to sometime between 1600 and 1000 b.c.e.:
Remains of hickory nuts and hawthorn fruits gathered in the late 2 nd millennium b.c.e. were found at a site near Davis Creek about 5 miles north of Camp. These plants can still be found throughout Washington County today, and also grow in and around CCCC property. Gathering and hunting in the forest were probably a very important task for the people living in this area then, and would be for thousands of years to come.
Trade had begun to increase throughout the region during the time period that the Davis Creek site dates to, and indeed, it had almost 20 projectile points made of material that came from over 150 miles away. It seems the earliest people who lived here were connected with groups all across Southeast Iowa and probably well beyond.
Added to timeline: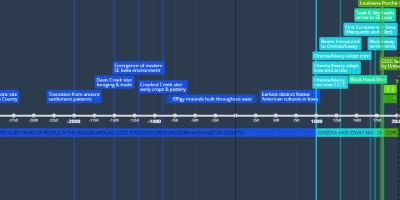 Crooked Creek: A History of the Land and the People
Crooked Creek Christian Camp
Washington, Iowa
2017

Created ...
Date: