nov 22, 1819 - Industrial Revoultion
Description:
Most of the innovations of the Industrial Revolution of the late 18th and early 19th Century were of British origin, including the harnessing of steam to drive heavy machinery, the development of new materials, techniques and equipment in a range of manufacturing industries, and the emergence of new means of transportation (e.g. steamships, railways). At least half of the influential scientific and technological output between 1750 and 1900 was written in English.
Added to timeline: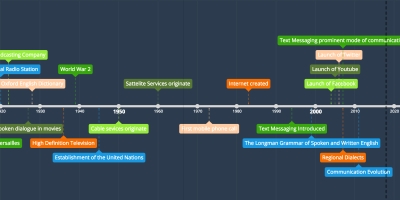 Evolution of General American English
A chronological overview of the Evolution of General America...
Date: