jan 5, 1922 - Washington Naval Conference
Description:
In 1922, nine of the World's greatest naval powers came to Washington to discuss rising tensions in East Asia.
Three major treaties came out of this meeting, the Five- Power Treaty, the Four- Power Treaty and the Nine- Power Treaty.
The Five- Power Treaty was signed by the United States, the United Kingdom, Japan, France and Italy, agreeing to maintain a set ratio of warship tonnage.
The Four- Power Treaty, signed by the US, the UK, Japan and France, stated that these countries would consult each other before making decisions that would affect the world.
The Nine- Power Treaty just stated China's land integroty.
This was successful at the begginign, until Japan made their navy and invade China.
Added to timeline: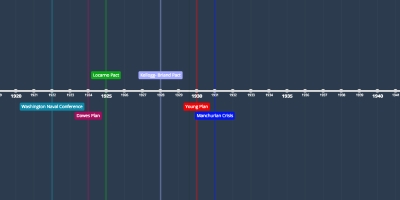 Failure of Collective Security
Date: