jan 2, 1730 - The Great Awakening
Description:
The Great Awakening was a period of time starting in the 1730's which saw great religious revival and linked people closer to God, instead of having the Church as a middle man.
It was pushed by powerful preachers such as Jonathan Edwards and George Whitefield. This movement was revolutionary as it actually let black slaves become more educated and many slave owners were told to make their slaves literate so they could read and study the bible, and soon many blacks were in churches and even holding high positions. The Great Awakening helped bring the colonists closer to God and reinforced his authority directly instead of having the church be in more power; this also let the colonists reject Britain's power and rebel under the notion that God wanted this.
Added to timeline: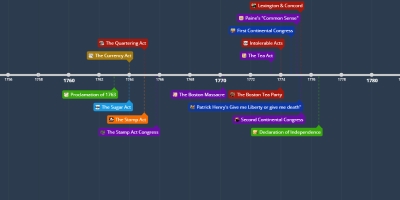 History
Road to Revolution
Date: