11h 2min, dec 23, 1960 y - SL-1 Shut Down for Planned Maintenance
Description:
It was planned that maintenance on certain components of the whole system would be performed during the succeeding twelve days
and the reactor would again be brought to power on January 4,1961. At the time of the shut-down, margin for the cold reactor was probably 2 to 3%, assuming rod worth was essentially unchanged from earlier measurements and calculations. Criticality could have been probably been produced by withdrawal of rod #9 approximately 17 inches from the reference zero position. Much uncertainty surrounds this number.
Added to timeline: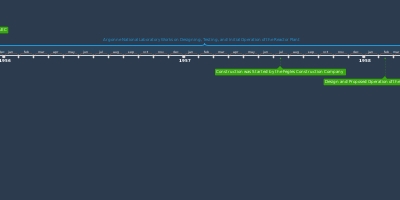 SL-1 Reactor Accident Timeline
Date: