jan 1, 1890 - Sherman Antitrust Act (inspired prevention of compacts from fixing rates)
Description:
Antitrust (i.e. not trust corporations) sentiments in the late 1800s due to shady practices.
Prohibited contracts with anti-competition and/or monopolies tendencies (among states or foreign nations)
This did NOT DIRECTLY affect insurance due to Paul decision rendering insurance as not a part of interstate commerce. However, the implications still affected it.
Around this time, competition was fierce, insolvencies were many.
A few insurers formed compacts with the intention of maintaining adequate rates (and potentially forcing out competition).
But not all insurers joined, so rates were still out of control.
The INDIRECT effect was that it helped states pass their own legislation which:
-prevented compacts from fixing rates
Added to timeline: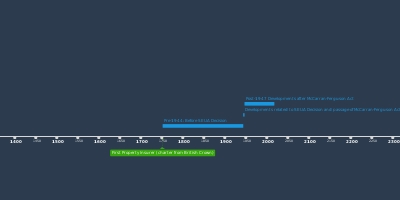 Exam 6 - History of Insurance
Date: