American Warships sailed into Tokyo Harbor (jan 1, 1853 – jan 1, 1854)
Description:
- Under the command of Commodore Matthew Perry.
- To negotiate a trade treaty to ask Japan to trade with America
- Japan, aware of the outcome of the Opium Wars(European powers invaded China in order to trade with China), and also impressed by Perry's Armament. Japanese leaders agreed to trade with America.
Added to timeline: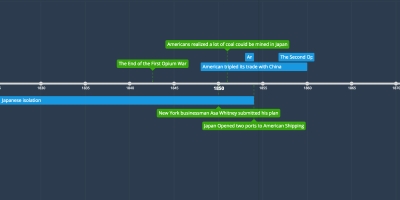 Opening Japan
Date: