The middle ages- The middle English period (1066-1450) (2h 49min, mar 8, 1066 y – 12h 57min, dec 25, 1450 y)
Description:
• The middle English period (1066-1450)
Sounds like Germany.
• Norman invasion in 1066 a Frenchman, William the Conquerer, became the king of England
• About 10.000 French words were incorporated in the English language
Social, and cultural changes and changes in language and literature
• French was introduced as he language of the royal court and in the law.
• French become the languages of the kings and nobility for more than 300 years
• A range of literary genre emerged, including chivalric romances, religious songs, drama, morality and miracle plays.
The Canterbury Tales by Geoffrey Chaucer
• Is a significant work as it is considered a determining factor for English develop into a national language… Middle English.
• The Canterbury Tales is a collection of 20 stories which gave realistic picture of mediaeval society.
Added to timeline: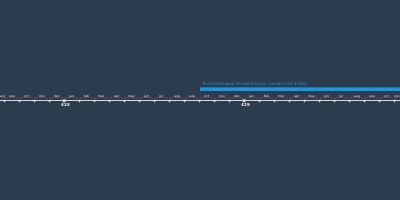 Marias timeline
The middle ages - The old English period (428-1066)
Date: