The Great Depression (Economic) (oct 29, 1929 – jan 1, 1939)
Description:
In 1929, Canada and most of the world had one of the greatest economic crashes. This led to The Great Depression leaving a lot of Canadians unemployed, homeless, and hungry. This was very significant to Canada because of how it affected us. In the Maritimes, unemployment rates jumped to 60%, and Canada's GNP fell from 6.1 billion dollars to 3.5 billion dollars in only 4 years. As well, Canada's birthrate dropped from 13.1 per 1000 to 9.7.
Added to timeline: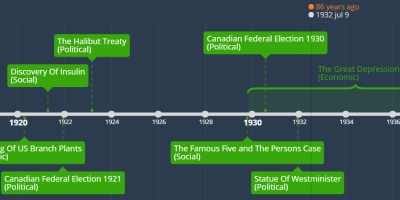 Major Canadian Events of the 1920's and 1930's
The major events in Canada that happened between the years 1...
Date:
Images: