end of decmber (dec 25, 1846 – dec 31, 1846)
Description:
December 25, 1846: Patrick Breen's diary: "Began to snow yesterday about 12 o'clock. Snowed all night & snows yet rapidly. Wind about E. by N. Great difficulty in getting wood. John & Edwd. has to get: I am not able. Offered our prayers to God this Cherimass morning. The prospect is appalling; but hope in God. Amen." Snowshoers: At "Camp of Death" Patrick Dolan and young Lemuel Murphy die.
December 26, 1846: The snowshoers resort to cannibalism, "averting their faces from one another and weeping."
December 27, 1846: Patrick Breen's diary: "Continues clear. Froze hard last night. Snow very deep: say 9 feet (2.7 m) [2.74 meters]. Thawing a little in the sun. Scarce of wood. To day chopt a tree down. It sinks in the snow & is hard to be got."
December 29, 1846: Charles Burger dies in Keseberg's lean-to.
December 30, 1846: About this date, the Forlorn Hope's human meat is gone. William Foster suggests that Luis and Salvador be killed for food; William Eddy disagrees, and tells Foster's idea to the Indians, who initially are incredulous, then vanish into the woods.
December 31, 1846: Patrick Breen's diary: "Last of the year. May we, with God's help, spend the coming year better than the past, which we purpose to do if Almighty God will deliver us from our present dreadful situation, which is our prayer if the will of God sees it fitting for us. Amen.
Added to timeline: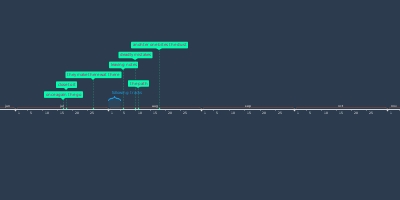 Donner party project 2018...
Date: