donner party survives (dec 18, 1846 – dec 21, 1846)
Description:
December 18, 1846: Patrick Breen's diary: "Beautiful day; sky clear; it would be delightful were it not for the snow lying so deep. Thaws but little on the south side of shanty. Saw no strangers today from any of the shantys."
December 19, 1846: Patrick Breen's diary: "Snowed last night; commenced about 11 o'clock. Squalls of wind with snow at intervals. This morning, thawing. Wind N. by W. A little singular for a thaw. May continue. It continues to snow. Sun shining. Cleared off towards evening."
December 20, 1846: The snowshoers reach Yuba Bottoms. Patrick Breen's diary: "Night clear. Froze a little. Now clear & pleasant. Wind N.W. Thawing a little. Mrs Reid here. No account of Milt. Yet Dutch Charley started for Donners; turned back, not able to proceed. Tough times, but not discouraged. Our hopes are in God. Amen." (Patrick Breen misspells "Reed" throughout his diary it honestly really annoying)
December 21, 1846: About this date, the snowshoers' rations run out. Charles Stanton, too weak to leave camp in the morning, sits in the snow, smoking his pipe, and tells the rest of the Hope to go on. Patrick Breen's diary: "Milt. got back last night from Donners' camp [with] sad news. Jake Donno [Jacob Donner], Sam Shoemaker, Rinehart, & Smith are dead; the rest of them in a low situation. Snowed all night with a strong S.W. wind. To day Cloudy. Wind continues but not snowing. Thawing sun shining dimly. In hopes it will clear off."
Added to timeline: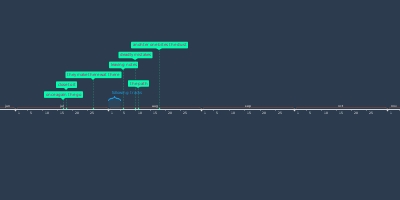 Donner party project 2018...
Date: