November 1526 to Late 1527 (nov 1, 1526 – nov 30, 1527)
Description:
Pizarro begins his second voyage to the New World with 160 men and several horses spread across 2 ships. The party later splits up.
Bartolome(accented e) Ruiz and his half make the first contact with the Inca people and are told of a southern land of gold, silver, precious stones, and intricate fabrics.
Meanwhile, Pizarro and his crew stay on an uninhabited island, where the threat of mutiny is constant.
Added to timeline: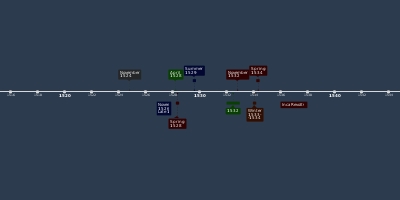 Inca Colonization by Francisco Pizarro
Date: