The Commercial Revolution (4h 45min, jul 14, 1100 y – jan 1, 1500)
Description:
This was an increase in commerce in Europe that occurred in the late Middle Ages. The Commercial Revolution is responsible for the acceptance of the ideas of mercantilism and economic development. It encouraged European exploration, but was also fueled by the discovery of the New World. The Commercial Revolution helped to set the stage for the Industrial Revolution.
Added to timeline: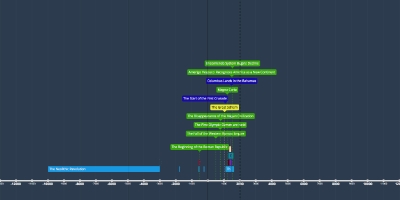 World History Significant Events Timeline
Contained in this timeline are twenty events in the history ...
Date: