Schmalkaldic Wars (jan 1, 1546 – jan 1, 1547)
Description:
Fearful of Charles V intentions, eight princes and 11 imperial cities-all Lutheran-formed a defensive league known as the Schmalkaldic League. Charles was constantly distracted with other problems that continued to arise but in 1546, Charles was finally forced to do battle with the Protestants in the first phases of the war. The emperor was able to defeat their forces at he battle of Mühlberg. The Schmalkaldic League was soon reestablished, and the German Protestant princes allied themselves with the new French king, Henry II, who happened to be a Catholic to revive the war in 1552. Charles was this time less fortunate and had to negotiate a truce. Charles was exhausted by these efforts, and he finally resigned in 1556 leaving all power to his brother. The Lutheran states ended up expelling catholic bishops and other official while confiscating catholic lands.
Added to timeline: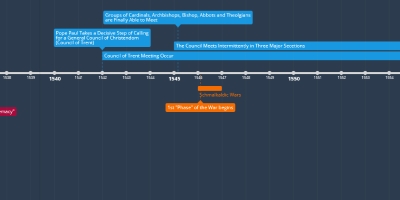 AP Euro: Reformation Timeline Project
It's a project for Euro, ey!
Date: