High Renaissance (jul 26, 1470 – aug 20, 1600)
Description:
The Classical Renaissance in Florence is sometimes considered the true beginning of the Renaissance. The times were uneasy and many new ideas were introduced. With it came an explosion of art that included themes such as simplicity of message, courage of individual connection, and clarity of spirit.
In Southern Europe, Renaissance themes included
- naturalism
- harmony
- balance
- natural light
- order
- Greek sensibilities
- focal point
- continuous space
- logic
- grand scenes
Raphael, Michelangelo, and Leonardo da Vinci are considered the three most important figures in the Classical Renaissance.
Reformers had access to printing, so ideas political and social spread very quickly. The New World was discovered and new ways of looking at the world were examined. It was hypothesized that God created an indifferent universe with the Sun at its center. He was declared more of a mathematician than a humanist.
Political power also changed as Henry VIII became the head of the Christian Church.
Added to timeline: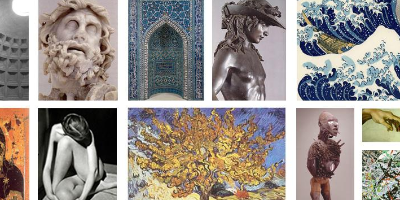 Art History
Art eras are each differently colored, and artists correspon...
Date: