THE KORAMBO (CEREMONIAL HOUSE) OF THE ABELAM OF PAPUA NEW GUINEA (jan 1, 1962 – jan 1, 0)
Description:
The Korambo is considered a spirit house. This structure has many purposes such as being a meeting place for the yam cult.
This cult only consist of men and all of those who are initiated are allowed into the Korambo, but only men.
The completion of the facade of the house is celebrated with a mindja which includes hard partying and could last for six months until the roof is completely built.
Added to timeline: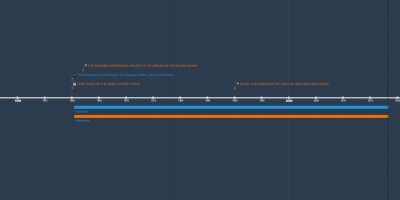 Art History 28
Date:
Images: