Iron Age (jan 1, 1200 BC – dec 31, 800)
Description:
The Iron Age is the final epoch of the three-age system, preceded by the Stone Age (Neolithic) and the Bronze Age. It is an archaeological era in the prehistory and protohistory of Europe and the Ancient Near East, and by analogy also used of other parts of the Old World. The three-age system was introduced in the first half of the 19th century for the archaeology of Europe in particular, and by the later 19th century expanded to the archaeology of the Ancient Near East.[1]
As its name suggests, Iron Age technology is characterized by the production of tools and weaponry by ferrous metallurgy (ironworking), more specifically from carbon steel.
The duration of the Iron Age varies depending on the region under consideration. It is defined by archaeological convention, and the mere presence of cast or wrought iron is not sufficient to represent an Iron Age culture; rather, the term "Iron Age" implies that the production of carbon steel has been perfected to the point where mass production of tools and weapons superior to their bronze equivalents become possible. In the Ancient Near East, this transition takes place in the wake of the so-called Bronze Age collapse, in the 12th century BC. The technology soon spreads throughout the Mediterranean region and to South Asia. Its further spread to Central Asia, Eastern and Central Europe is somewhat delayed, and Northern Europe is reached still later, by about 500 BC.
The Iron Age is taken to end, also by convention, with the beginning of the historiographical record. This usually does not represent a clear break in the archaeological record; for the Ancient Near East the establishment of the Achaemenid Empire c. 550 BC (considered historical by virtue of the record by Herodotus) is usually taken as a cut-off date, in Central and Western Europe the Roman conquests of the 1st century BC. The Germanic Iron Age of Scandinavia is taken to end c. AD 800, with the beginning Viking Age.
https://en.wikipedia.org/wiki/Iron_Age
Added to timeline: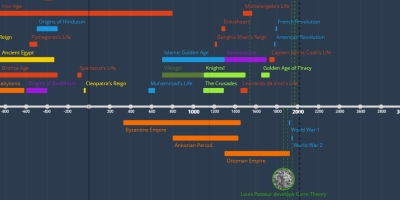 World History Timeline
In progess
Date: