U.S. proposals (1950s, 1960s, and 1970s) (nov 26, 1949 – nov 23, 1970)
Description:
In 1962, Aeronutronic Ford, General Dynamics and the Lockheed Missiles and Space Company made studies of Mars mission designs as part of NASA Marshall Spaceflight Center "Project EMPIRE".
Following the success of the Apollo Program, von Braun advocated a manned mission to Mars as a focus for NASA's manned space program. Von Braun's proposal used Saturn V boosters to launch nuclear-powered (NERVA) upper stages that would power two six-crew spacecraft on a dual mission in the early 1980s. The proposal was considered by (then president) Richard Nixon but passed over in favor of the Space Shuttle.
In 1975, von Braun discussed the mission architecture that emerged from these Apollo-era studies in a recorded lecture and while doing so suggested that multiple Shuttle launches could instead be configured to lift the two Nuclear Thermal Rocket engine equipped spacecrafts in smaller parts, for assembly in-orbit.
Added to timeline: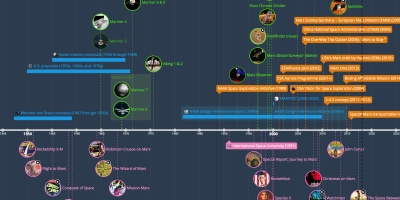 Timeline of Mars
Date:
Images: