Soviet mission proposals (1956 through 1969) (jan 10, 1955 – dec 9, 1969)
Description:
The Martian Piloted Complex (MPK) : it was a proposal by Mikhail Tikhonravov of the Soviet Union for a manned Mars expedition, using the (then proposed) N-1 rocket, in studies from 1956 to 1962. The Soviets sent many probes to Mars with some noted success stories including Mars atmospheric entry, but the ratio was low and their space program struggled through disasters like the lost Salyut 1 crew and explosions of their N-1 rocket
Heavy Interplanetary Spacecraft (TMK) was the designation of a Soviet Union space exploration proposal in the 1960s to send a manned flight to Mars and Venus (TMK-MAVR design) without landing. The TMK spacecraft was due to launch in 1971 and make a three-year-long flight including a Mars fly-by at which time probes would have been dropped. The project was never completed because the required N1 rocket never flew successfully.
The Mars Expeditionary Complex, or "'MEK"' (1969) was another Soviet proposal for a Mars expedition that would take a crew from three to six to Mars and back with a total mission duration of 630 days.
Added to timeline: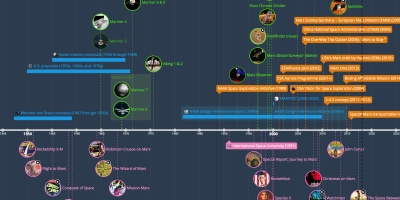 Timeline of Mars
Date:
Images: